Flaxseed + Oatmeal Curling Hair Cream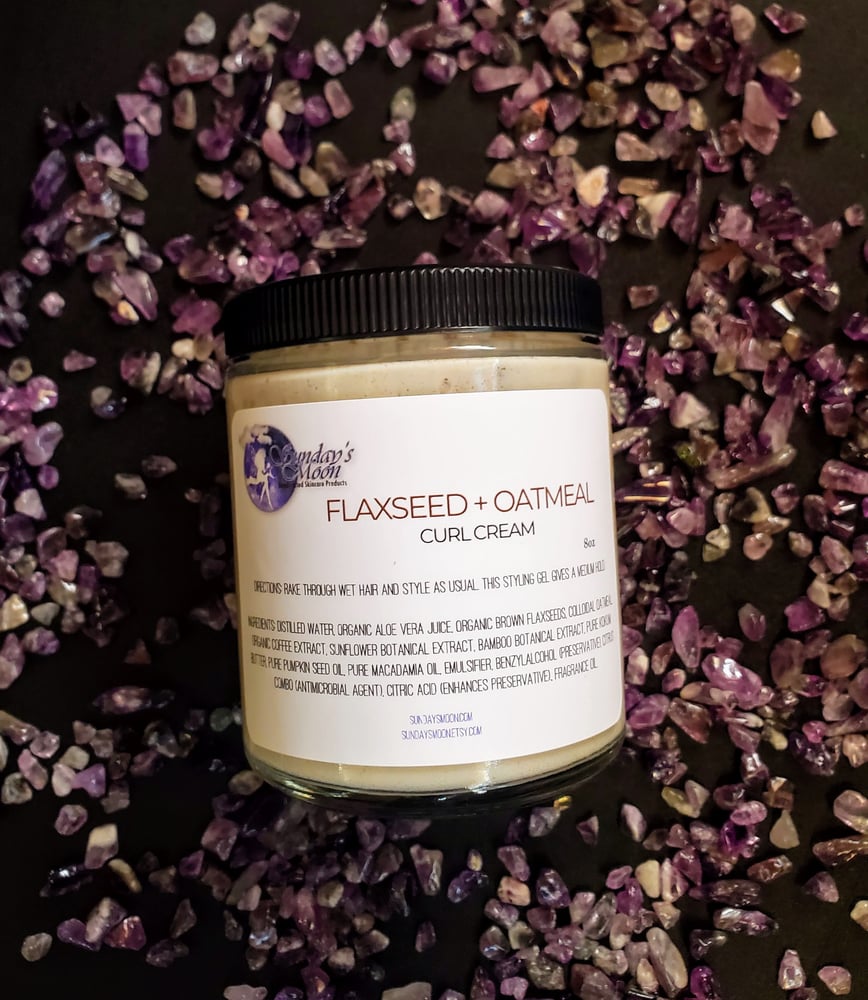 This creamy flaxseed gel gives an all-natural hold that won't dry out your curls. Providing a moisturizing hold to your twists, braids, and curls. This FLAXSEED and OATMEAL curl defining gel works great to refresh and revive natural occurring curls.
Made with hydrating and very moisturizing hair oils. This curling cream works great on its own or can be paired with a leave-in conditioner. Infused with SUNFLOWER, COFFEE, and BAMBOO botanical extracts, this is more than a hair gel. It was made to help with hair breakage and hair growth.
ACTIVE INGREDIENTS:
::FLAXSEEDS:: Help balance pH levels and oil production. These are two factors that directly affect the rate at which your hair grows and its health. Packed with Omega-3s, It nourishes the follicles and hair shafts, making them stronger and less prone to damage. This also ensures that the new growth is strong and healthy, improving hair elasticity.
::OATMEAL:: helps with the production of collagen, stimulates hair growth, helps prevent hair loss and helps with flexibility and shine. B vitamins also help improve hair moisture by penetrating the hair strand and working as humectants (draw and retain moisture).
::COFFEE:: stimulates the hair roots by improving its structure and growth. Caffeine can restore hair growth and prevent hair loss.
::SUNFLOWER EXTRACTS:: Rich in polyphenols and Vitamin F, which provides a protective seal around the hair shaft from split ends thus enhancing the thickness and sheen of the hair.
::BAMBOO EXTRACTS:: Containing 70% of organic silica which is roughly ten times more potent for a more prominent effect on healthy hair and scalp, shown to enhance hair growth especially in those with a deficiency.
::KOKUM BUTTER:: Rich in essential fatty acids and non-comedogenic (non-pore-clogging), it stimulates the scalp for healthy hair growth. It helps cell oxygenation, making nutrients more readily available for use by scalp/skin tissues - which helps promote hair growth.
::PUMPKIN SEED OIL:: Helps strengthen hair shaft while promoting the natural balance of sebum for shiny vibrant hair. Full of essential B-vitamins also known as B7, the hair growth champion.
::MACADAMIA SEED OIL:: Packed with fatty acids that help to add shine, strengthen, and nourish the hair follicles, which in turn fight off hair loss and brittle strands. It is also great for calming the hair of frizz, tangles, and dullness
DIRECTIONS: Rake through wet hair and style as usual. This styling gel gives a medium hold.
INGREDIENTS: Distilled Water, Organic Aloe Vera Juice, Organic Brown Flaxseeds, Colloidal Oatmeal, Organic Coffee Extract, Sunflower Botanical Extract, Bamboo Botanical Extract, Pure Kokum Butter, Pure Pumpkin Seed Oil, Pure Macadamia Oil, Emulsifier, Preservative, Fragrance Oil.
DISCLAIMER: I make no claims to treat or cure any diseases. Please check the ingredients for any possible allergens. If a reaction occurs, discontinue use and contact a physician. Every product listed has been personally tested by myself or family members. All my ingredients are as pure and organic as I can possibly get them.
*****People with NUT ALLERGIES should not use products made with Kokum Butter*****