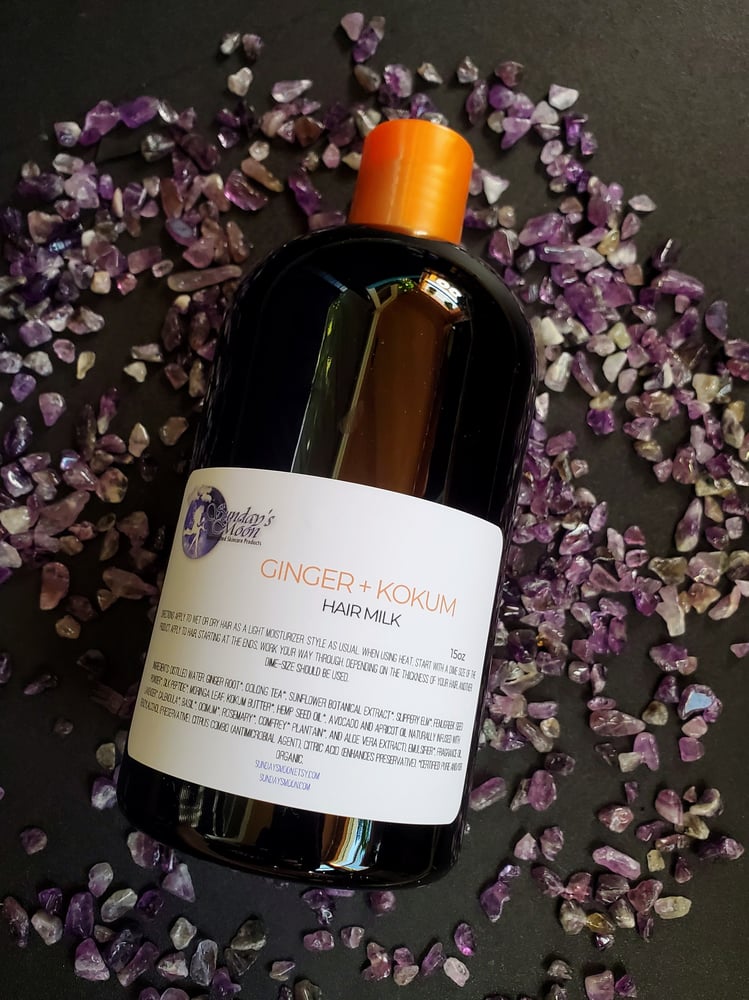 A lightweight styling hair cream that can be used on all hair types. Made with herbs and oils that help moisturize the hair at the roots to keep from shedding and thinning out. Each botanical and oil was chosen for its ability to help protect the hair.
This hair lotion can be used on a daily basis on dry or wet hair. It can be used to help style the hair or it can be used to seal in moisture before adding heat to your style.
ACTIVE INGREDIENTS:
::OOLONG TEA:: prevents hair loss due to the presence of antioxidants that protect the hair follicle from environmental damage and oxidative stress.
::GINGER ROOT:: increase the scalp circulation and encourage healthy hair growth. Ginger contains antioxidant gingerol, which helps to fight free radical – that can cause damage to hair cells, and cause hair thinning and hair loss.
::SLIPPERY ELM:: Stimulates hair growth while naturally softening the hair and soothing the scalp.
::SUNFLOWER EXTRACT:: rich in polyphenols and Vitamin F, it provides a protective seal around the hair shaft from split ends thus enhancing the thickness and sheen of the hair.
::FENUGREEK SEED:: contain compounds that can help strengthen and condition hair roots and reconstruct the follicles.
::KOKUM BUTTER:: Rich in essential fatty acids and non-comedogenic, it is perfect for stimulating the scalp for healthy hair growth. It helps cell oxygenation, making nutrients more readily available for use by scalp/skin tissues.
DIRECTIONS: Apply to wet or dry hair as a light moisturizer. Style as usual. When using heat, start with a dime size of the product. Apply to hair, starting at the ends, work your way through. Depending on the thickness of your hair, another dime-size should be used.
INGREDIENTS: Distilled Water, Ginger Root*, Oolong Tea*, Sunflower Botanical Extract*, Slippery Elm*, Fenugreek Seed Powder*, Silk Peptide*, Moringa Leaf, Kokum Butter*, Hemp Seed Oil*, Avocado and Apricot Oil Naturally Infused with Lavender*, Calendula*, Basil*, Rosemary*, Comfrey* Plantain*, and Aloe Vera Extract), Emulsifier*, Fragrance Oil, Preservative. *Certified Pure and/or Organic.
DISCLAIMER: I make no claims to treat or cure any diseases. Please check ingredients for any possible allergens. If a reaction occurs, discontinue use and contact a physician. Every product listed has been personally tested by myself or family members. All my ingredients are as pure and organic as I can possibly get them.