Hibiscus Whipped Body Butter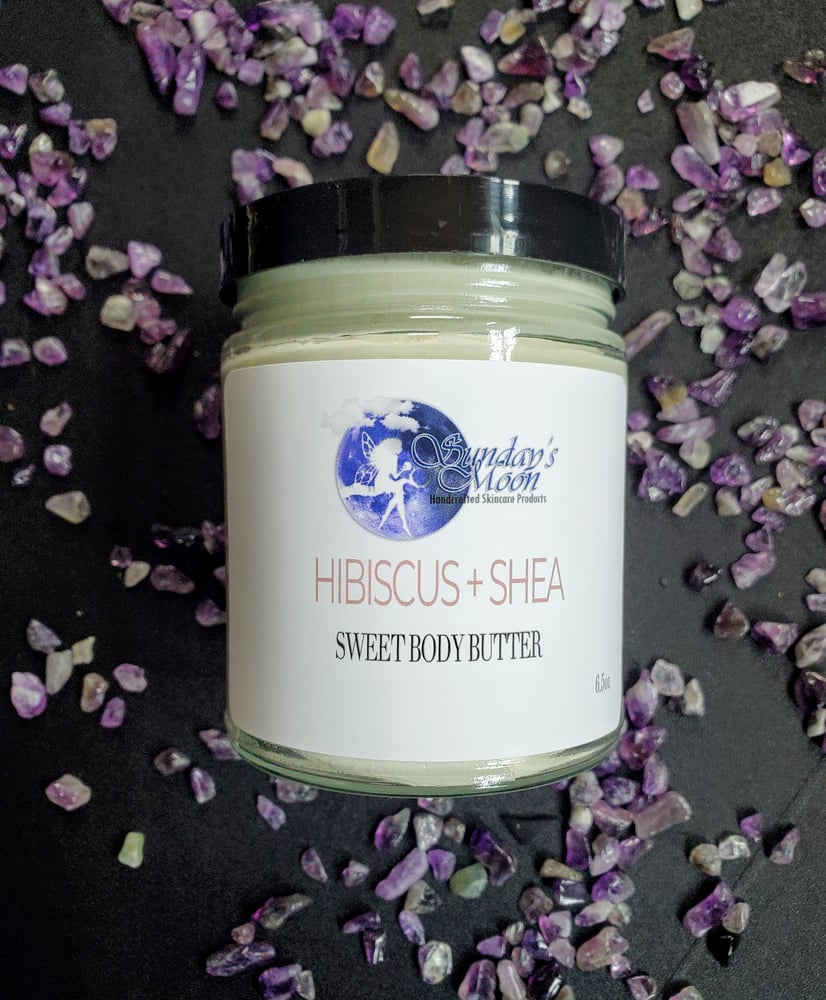 A rich whipped body butter to improve the texture of your skin. A blend of butters and oils, in a sweet scent. This light, all-natural butter, will melt into your skin, leaving it feeling soft, smooth, and smelling wonderful. This summer body butter is scented with light sweet fragrance oil. Great for summer days when all you need is light moisture with a clean scent.
Like all my products, each ingredient was chosen for a specific purpose. This Whipped Body Butter was made to help heal, nourish, and heal your skin while making you feel soft and smell pretty :)
This butter starts off with a beautiful blend of AVOCADO, SHEA, and COCONUT OIL, whipped to perfection. Infused with Nourishing HIBISCUS OIL and EXTRACT, SILK PEPTIDES, POWDERED GOAT MILK, and COLLOIDAL OATMEAL.
ACTIVE INGREDIENT;
::HIBISCUS:: a natural source of alpha-hydroxy acids (AHAs). AHAs are known to help exfoliate, control oily skin and unclogged pores, all of which can encourage fresher, younger, and smoother looking skin. They also increase moisture and firm your skin's look.
::ALLANTOIN:: Is known to increases skin's moisture absorption, promotes cellular regeneration and counteracts dryness, actively works to protect your skin, and softens skins and combats sun damage.
DIRECTIONS: Body butter work best when applied right after bathing when the skin is damp. It will help absorb and seal in moisture for a longer effect.
This body butter comes in an 8oz amber glass container.
INGREDIENTS: Crude Shea Butter, Avocado Butter, Organic Coconut Oil, Naturally Infused Hibiscus Oil, Naturally Infused Hibiscus and Calendula (100% Vegetable Glycerin Based) Extract, Silk Peptide, Allantoin, Goat Milk Extract, Colloidal Oatmeal, Fragrance Oil.
***If shipping during the warmer months, this product may be melted upon arrival. Let sit at room temperature or place in the refrigerator. This product will retain all the healing benefits after it's solid again.***
DISCLAIMER: I make no claims to treat or cure any diseases. Please check ingredients for any possible allergens. If a reaction occurs, discontinue use and contact a physician. All my ingredients are as pure and organic as I can possibly get them.