Sea Clay + Bamboo Detox Hair Mask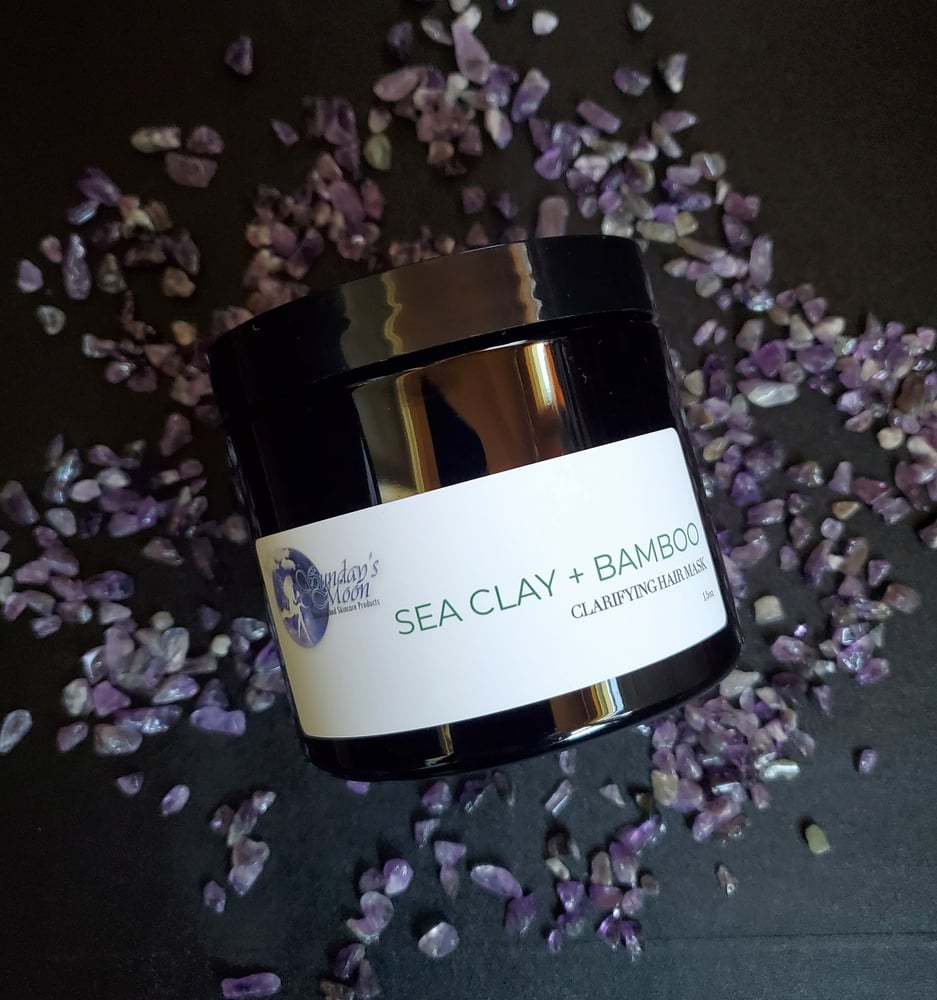 An all-natural, water-based, organic clay hair mask made for ALL hair types. This is a rich and creamy blend of extracts and oils that penetrate the hair shaft to detox, strengthen, and soften the hair.
This clay mask will deeply cleanse your hair shaft, follicles, and scalp, removing toxins, dirt, and hair products build up leaving your hair refreshingly clean and stronger. It helps with scalp circulation which stimulates hair growth. This treatment also combats hair loss from toxin build-ups.
ACTIVE INGREDIENTS:
---NEEM EXTRACT: has regenerative properties that support healthy cell division and stimulate hair follicle growth and function. It also has moisturizing effects revitalizes and restores dry, under-nourished or rough hair to a smooth, silky texture.
---BAMBOO EXTRACT: known to contain as much as 70% silica, which helps increase the volume of the hair, improve the density of the hair, make your hair stronger, improve the blood flow to the scalp, eliminating the damaged skin cells on the scalp, and adding shine to the hair.
---DEAD SEA CLAY: is packed with essential minerals like potassium, magnesium, sodium, bromine, and calcium. All of which help to naturally moisturize, cleanse, and strengthen your hair. It gets rid of dead cells from the hair and scalp, excess oiliness, dandruff, product build-up without drying and being harsh.
---SEA KELP EXTRACT: contains many of the essential nutrients to ensure hair growth. It's high in iodine and a great source of iron, sodium, phosphorus, and calcium and has a variety of vitamins, including A, B1, B2, C, D, and E, providing a healthier scalp and stronger hair.
---PUMPKIN SEED OIL: contains zinc and magnesium, which are two essential minerals for hair care. Zinc not only thickens hair, but it also speeds the growth. It also contains Vitamin A, E and K, and four fatty acids.
---SEA SALT: contains sulfur and many other essential minerals in pure form which is helpful for treating hair fall and hair loss. It reduces scalp acne, dandruff and unclogs hair follicles. It also helps balance scalp pH and sebum secretion. It is a natural scalp and hair detoxifying agent.
---BLACK CURRANT EXTRACT: it addresses issues such as dryness, weakness, thinning and split ends. This oil will nourish your curls from inside leading to more moisturized hair and healthier flow of nutrients to your hair follicles.
INGREDIENTS: Distilled Water, Pure Pumpkin Seed Oil, Pure Avocado Oil, Pure Castor Oil, Crude Shea Butter, Dead Sea Clay, Organic Neem Powder, Sea Kelp Powder, Organic Bamboo Extract, Organic Black Currant Extract, Sea Salt, Emulsion Wax, Natural Preservative.
DIRECTIONS: Section hair and apply hair mask. It can be applied to dry or wet hair. Massage in from roots to ends, make sure to massage the scalp in a circular motion. Cover hair and leave for about 15 minutes. Wash with shampoo to help remove the clay. Repeat if needed. Rinse with cool water. Style as usual.
DISCLAIMER: I make no claims to treat or cure any diseases. Please check ingredients for any possible allergens. If a reaction occurs, discontinue use and contact a physician. Every product listed has been personally tested by myself or family members. All my ingredients are as pure and organic as I can possibly get them.